Printed copies: 3,100, online >450, estimated readership 8-9,000 and growing.
Claire and Ceri would like to thank all our advertisers who have booked space in the Exmoor News.
Because the colour magazines were so popular we have decided to keep colour for all issues. If you are interested in booking space with a colour option or for back cover or inside covers please do get in touch – email is preferred.
Advertisements:
Rate card:-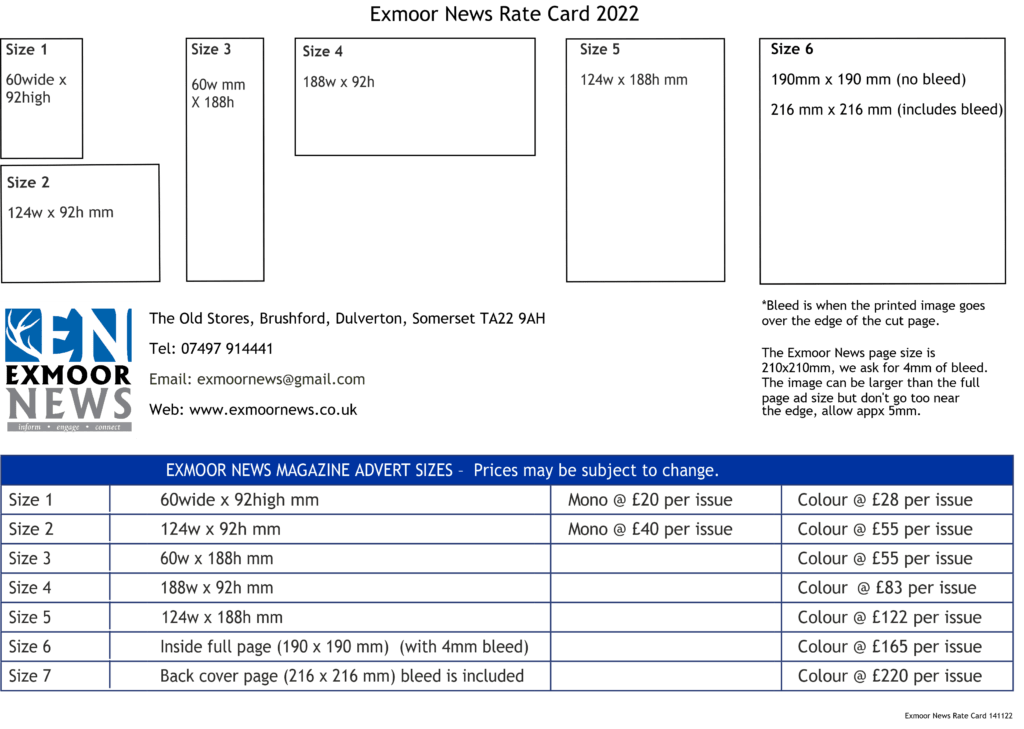 Please note there is a charge for artwork – please ask for details. There is also an additional charge for inside cover and back page advertisements.
BOOKING FORM:
PDF version:
Advertiser-Booking-Form-141122
Word document version:
Advertiser-Booking-Form-141122
What is bleed?
Bleed is when the printed image goes over the edge of the cut page. The Exmoor News page size is 210x210mm, we ask for 4mm of bleed. The image can be larger than the full page ad size but don't go too near the edge, allow appx 5mm.
Media Pack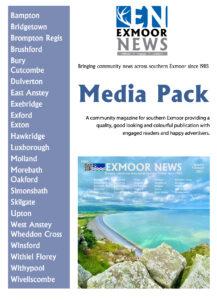 PDF file here exmoor-news-media-pack-141122
Editors: Ceri Keene and Claire Savill
Mobile: 07497 914441
Email: exmoornews@gmail.com
Web: www.exmoornews.co.uk
Thank you.
Quick Reminder Note: if your advertisement has dates in it or is specifically for a certain part of the year and you book, say 6 issues, please send appropriate artwork and/or resend new artwork as required.
If paying by bacs please include your invoice number as a reference. Please make cheques payable to Exmoor News: Our bank details are:-
Account Name: Exmoor News
Sort Code: 05 02 00
Account No: 29821358
_____________________________________________
TESTIMONIALS
From Philip Fry
Thank you, the Exmoor News was excellent for advertising and it certainly paid its way !
Claire and Ceri, Exmoor News is absolutely superb. I can't remember the last time I looked at a magazine where every page had to be accounted for, including the advertisements. It is certainly the best tool for us Southern Exmoor folks. Thank you for a fab enterprise. XL
I like the new look and the new ads. Grant
Thank you for a refreshing new look Exmoor News, now I can leave it laying on the coffee table. Paul L
One of our customers has recommended the Exmoor News and suggested we should advertise. Mary H
A triumph! A great new magazine – lots more content. Well done to you both. Vicky
Love it! Much more interesting with all the articles and the splash of colour. Hope the advertisers agree – they should, as it's more likely to be read now. Well done. Marion
I think it looks much better, more to read. Sue Just picked up my copy of the rejuvenated Exmoor News, think you have done a great job,and I love your experiment with colour it makes a great difference. Well Done! Ann
New layout looks very good, it stands our from the rest. Sha K