Items not yet included or missed the deadline?
If you would like us to add an event or edit please let us know at exmoornews@gmail.com – and we will add it on this website page. Thank you.
___________________________________________________________________
Regal Theatre welcomes back audiences
The Regal Theatre opened its doors for the first time since lockdown began with a performance of Little Women at the beginning of September to a very positive response.'Really enjoyed the film' said Rachel Hill. 'Everything organised superbly, felt as safe as can be possible.'
'Great to be back for a film,' said Geoff Grenyer and Jan Straw. 'The whole event was really well organised, both the box office and on the day. Seat spacing was no problem. We'll all get used to masks, so look forward to the next presentation.'
Another member of the audience who came with two friends said: 'We felt completely safe and enjoyed the experience, even with a mask on. Look forward to the next time.'
And now the Minehead Regal promises a pick-me-up programme, with three West End hit Musicals, 42nd Street, (13 October) Kinky Boots (20 October) and The King and I (November 3), plus a critically-acclaimed production of Chekhov's Uncle Vanya, (October 27).
Tickets may only be booked in advance by phoning the Regal Box-office on 01643 706430 between 9.30am and 11.30am Monday, Wednesday or Friday.
Regal volunteers have ensured that all safety precautions and practical social distancing measures are in place so that members of the audience are protected and feel safe. While the prospect of live shows at the Regal is still some way off, the screenings are enabling a gradual re-opening of the theatre and events will be organised on an ad hoc basis rather than publishing a full programme that might have to be cancelled or postponed.
All events will be announced a couple of weeks in advance including in the West Somerset Free Press or you can join the mailing list by emailing mail@regaltheatre.co.uk.
____________________________________________________________________
"We are open – come and see us" say Dulverton Library
"We are open – and we'd love to see you" is the message from Dulverton Library as it prepares to celebrate Libraries Week from 5 to 10 October
The Somerset County Council service wants to make sure residents know that it's almost back to business as usual following the closures due to the coronavirus pandemic.
And, while customers will need to follow Covid-19 precautions, they can browse the shelves, use computers, chat with staff and discover the free services Dulverton Library provides. Current health guidance when visiting the library, includes the need to wear a face covering and participate in Track-and-Trace requirements.
Councillor David Hall, Somerset County Council's Cabinet member for Economic Development and Community Infrastructure, said: "I know how much people missed their library when they had to close because of the coronavirus pandemic – they really are places at the heart of their community.
"Now they are open, all of us involved in Somerset Libraries service would be delighted to see customers enjoy their visits once again. Customers are welcome to browse the shelves or book a computer session and we have some great digital offerings, too."
Each day during libraries week, staff in libraries across Somerset will be posting videos, book reviews and other fun content on the Somerset Libraries Twitter, Facebook and Instagram accounts. It's easy to join the library – just visit www.somersetlibraries.co.uk where there's a wealth of information and details on how members can support their local library.
Once signed up, customers can also access e-books, e-audiobooks, e-magazines and e-newspapers – all free of charge.
Somerset Libraries also provide a Home Library Service for those who may not be able to leave their home and the mobile library is back on the road with browsing of books on the vehicle starting again from 12 October.

____________________________________________________________________
Raising money for Eddie
We are fundraising £60,000 for a life changing operation called Selective dorsal rhizotomy (SDR) physiotherapy  and rehabilitation equipment with Tree of Hope charity for our 8 year old son, Eddie, to help him walk. Eddie has cerebral palsy and walks short distances with his walking frame and tripod sticks and without the operation, he will lose this hard earned ability and use a wheelchair as his primary means of mobility. Eddie was born 10 weeks early and suffered a bleed on his brain soon after his birth. He had to be admitted to intensive care and put on a ventilator and was in an incubator. He stayed in hospital for the first 10 weeks of his life. When baby milestones weren't met, doctors suspected cerebral palsy and did an MRI scan. The bleed he had on his brain early on in life had caused brain damage resulting in cerebral palsy.  Eddie has been under assessment for SDR under the NHS but the coronavirus lockdown has delayed everything. Usually the NHS fund the op for certain children with cerebral palsy from age 3-9. Eddie is 9 in december. As we understand it, NHS England will.allow the operstion on children beyond 9 who are "in the assessment system" but we don't know when, the waiting list is long. We also have yet to hear if Eddie has "passed the tests" from phydiotherspy assessments done to assess suitability for SDR. Eddie has moderate cerebral palsy. For children of this severity, they gain physical skills until about age 6 or 7 years old.  What they haven't learnt by then, they are likely to never be able to do. They then plateau and at around 9 years old, they decline in their physical skills as their muscles tighten with age. Eddie has surprised everybody by learning to stand up and take an independent step without the walking frame or sticks just before he was 8 years old. Eddie is 9 in December and we don't want him to decline in his physical ability and lose skills such as walking with his walking frame. As such we are fundraising for private SDR operation, physiotherapy and equipment. Please would you want to cover Eddie's story and also the fundraisers we have got to raise funds? We have a "Burgers for Eddie" special offer for October (see poster) I also am doing "Lowri Weston's Bold and Bald " where I am having my hair dyed crazy colours, wearing it for 4 weeks and shaving it all off. Also Eddie's school friend is running a kids competition, "pumpkins for Eddie "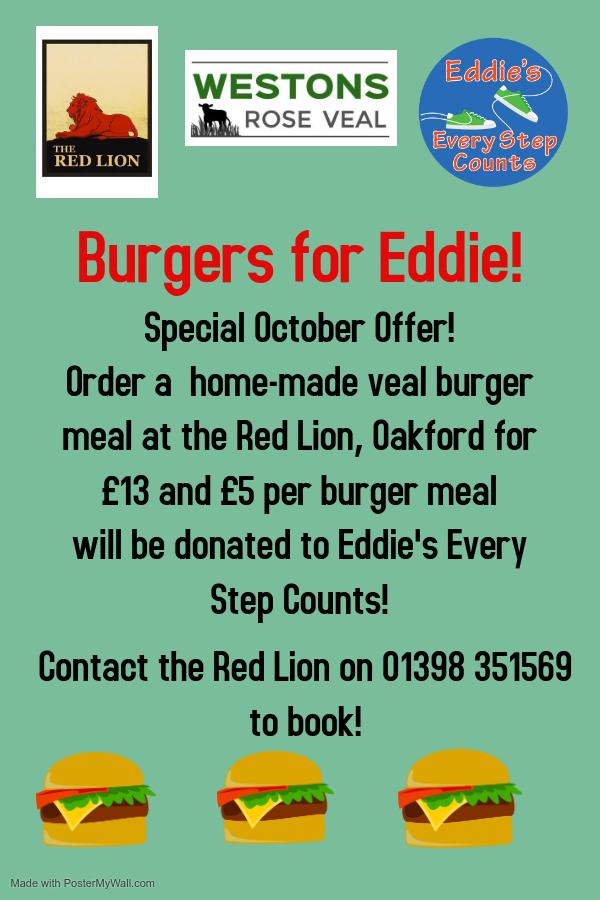 ___________________________________________________________________
Open Studios – An artists view of Exmoor.
Over the past ten months or so I have been putting together a collection of paintings, drawings and other media, for an exhibition to be shown as part of this years Devon Open Studios event, which runs from the 12th to 27th of September. This is an annual celebration of art, where people like myself open their studio doors to the public so they can get a glimpse into the working lives of an artist.
My work centers around landscape and living on the edge of Exmoor means my inspiration is almost solely derived from the National Park. Having such a beautiful expanse of nature on my doorstep, with its richly varied aspects, from high open moor, to deep wooded valleys with fast flowing rivers, and a spectacular coastline, means I am spoiled for choice when it comes to finding subjects. I work in various media: acrylic/mixed media, charcoal, graphite and oil paint and with these materials I attempt to capture an essence of place.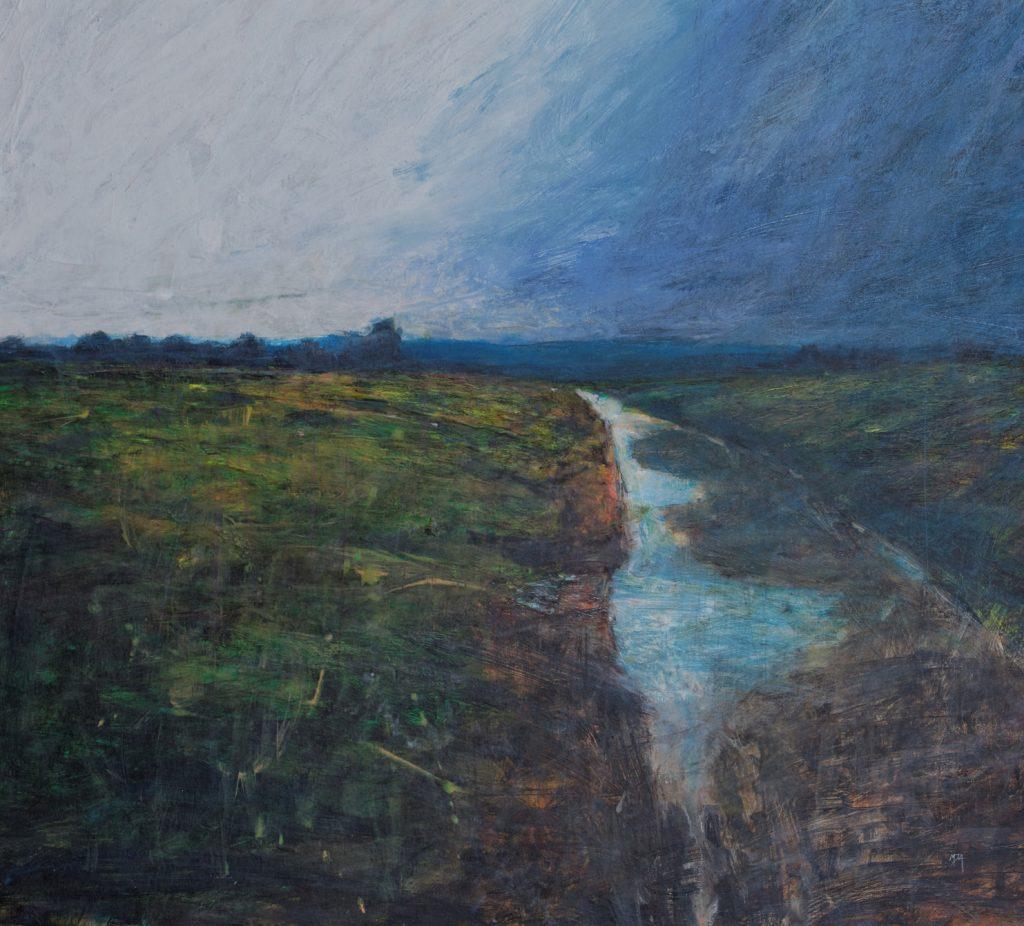 My style tends to be free and often textural, and is an expression of my feelings for the landscape as much as pure representation. In addition to the painting and drawing I have made a short film along an Exmoor river for this show, with some music to accompany and expand upon it. It's been a challenging year, not only being unable to visit the places I work in for many weeks due to Covid19, but also trying to do something creative when the mind is full of worry and stress. However, despite it all I have produced a body of work I'm proud to exhibit for this years Open Studios from my gallery here at home. If anyone would like to visit my studio/gallery, which is a large open space, where social distancing can be maintained with ease and safety, please take a look at the Devon Artists Network website and download the guide, which lists hundreds of artists you can visit… I'm Venue number 2. We also have a large garden in a lovely setting that visitors can freely explore.
Your support would be very much welcome.
Mark Abdeywww.markabdey.wordpress.com
www.devonartistnetwork.co.uk
____________________________________________________________________
Libraries new order-and-collect service proves popular
Hundreds of people have been making use of the new Somerset Libraries order-and-collect service which is now available in Dulverton.
The service allows people to use an online request form to receive a selection of up to 10 books, DVDs or Talking Books which staff pick out for customers, based on the types of authors or genres that are of interest to them. Somerset residents have also been making use of the popular public computers which are also available in libraries that are open. Computers need to be pre-booked and are available for one-hour slots, with time built in for cleaning.
Councillor David Hall, Somerset County Council's Cabinet Member with
responsibility for Libraries, said: "We are delighted that so many people have been enjoying our new order-and-collect service and coming into libraries to use the computers.  Although browsing of shelves is not yet possible, we have had some encouraging feedback from people making use of our many online services, including books, audiobooks, magazines and newspapers, all available to download free of charge to library members.
"The videos that staff have been busy making are also proving a real hit, with thousands of engagements on Facebook, Twitter and Instagram and this is something we will be continuing to develop, even as the lockdown eases" The mobile library will also be back on the road from Tuesday 21 st July and details of where and when the stops are can be found on the Somerset Libraries website pages.
Customers can return any items currently on loan to any libraries that are open, but customers are being encouraged not to make an unnecessary journey to do this. All current loans that would have been due back during the lockdown period have been extended to the end of August, and any overdue charges that customers might have incurred as a result of library closures due to COVID-19 have been waived. It is hoped that all Somerset libraries, with the possible exception of a few community-managed libraries, will be open again by mid-August.
The order-and collect request form is available via the Somerset Libraries website- www.somersetlibraries.co.uk or by contacting librariesmail@somerset.gov.uk.
Somerset Libraries are also contactable by telephone on 0300 123 2224.
Full details of which libraries are re-opening, including their hours of opening and services available, can be found on the Somerset Libraries website and via their social media pages – search for Somerset Libraries UK on Facebook, @SomersetLib on Twitter and Somerset Libraries on Instagram.
___________________________________________________________________
Council's campaign is 'busting the
myths' about domestic abuse
Somerset County Council's domestic abuse campaign, #NoClosedDoors2020, is 'busting the myths' around domestic abuse and what causes it.
There are many dangerous myths surrounding domestic abuse. The campaign is challenging some of those most extensively believed and deep-seated misconceptions.
Cllr Clare Paul, Somerset County Council's Cabinet Member with responsibility for Public Health and Wellbeing, commented: By highlighting the myths and misconceptions around domestic abuse, we are empowering people who may not be aware that what they are experiencing is a form of abuse and prompting potential perpetrators to question their own behaviours;
Below are some of the most common misunderstandings about domestic abuse: 
Myth: Domestic abuse only occurs in impoverished, inner-city areas.
Fact: From an urban or rural area, rich or poor, anyone can experience domestic abuse, it doesn't matter where you live or how much income you have. It happens in all types of relationships, regardless of race, ethnic or religious group, class, disability, sexuality, lifestyle, nationality or age.
Myth: Domestic abuse always involves physical or sexual violence.
Fact: Domestic abuse is often thought of as the beating up of a partner or sexual assault, but it can also be a wide range of other behaviours such as:
 Coercive control
 Psychological abuse
 Financial/economic control
 Emotional abuse
 Harassment
 Stalking
 Online or digital abuse
Myth: Only women experience domestic abuse
Fact: Men can also experience domestic abuse from their female partners. People can be subjected to abuse regardless of how they identify their sexuality. Abuse can happen in same sex relationships or between other types of family relationships.
Myth: Domestic abuse is a rare occurrence.
Fact: Often domestic abuse goes on behind closed doors and it is often underreported, however it is not an uncommon occurrence. One in four women and one in six men will experience domestic abuse in their lifetime.
Myth: Domestic abuse is often a one-off incident.
Fact:  An abusive relationship has an ongoing cycle of incidents of controlling, coercive or threatening behaviour, violence or abuse between those aged 16 or over who are or have been intimate partners or family members.
 Myth: Survivors often provoke assaults and therefore "ask for it."
Fact:  Domestic abuse cannot be justified in any way. Nobody is responsible for making someone abusive towards them. Abuse that has been going on in a relationship for a long time, sometimes decades, often becomes normalised by a survivor, even to the point of believing they deserve to be hurt. This can lead to someone rationalising and defending their abuser's behaviour.
Myth: An abusive relationship doesn't always affect the children.
Fact: An estimated 90% of children whose parents are in an abusive relationship witness the abuse. When a child witnesses domestic abuse it is child abuse. The trauma can have a long-lasting emotional and psychological effect on them.
Myth: Domestic abuse is a private matter that others should not get involved in.
Fact: Domestic abuse is a crime and should not be ignored. Ignoring the signs of domestic abuse in a friend or family member may lead to them not getting the help they need to regain control of their lives. Trying to tackle the situation on your own may be dangerous for you or the person experiencing abuse, but advice on how to help someone that is in an abusive relationship is available (details below).
If you or someone you know is experiencing domestic abuse, you can go to
www.somersetsurvivors.org.uk or telephone 0800 69 49 999.
In an emergency you should always dial 999, if you are unable to speak because you are worried you will be overheard you can press 55 and the operator will know that you need assistance.
____________________________________________________________________
Somerset Village and Community Agent announcement, click on this link:-
Exmoor Parish Mags Submission for July 2020 – Jane Lillis
____________________________________________________________________
Brompton Regis Show & Gymkhana – Cancelled
It is with much regret and a fair degree of  inevitability, that the Show Committee has decided to cancel this year's show, planned for 15th August 2020, due to the Coronavirus pandemic.
Su Elsden, Show Secretary
____________________________________________________________________
Dulverton Players Panto Dick Whittington
Sadly, due to the COVID 19/Coronavirus threat, the Dulverton Players have taken the decision to postpone their forthcoming Pantomime, "Dick Whittington", to Wednesday 28th October until Saturday 31st October. As usual we will hold four evening performances and one matinee on the Saturday. The decision to postpone has not been taken lightly but it was felt essential to protect the players, both on stage and off, and our audiences, and to work within current Government guidelines. Please be assured that we are very keen to bring you this wonderful show and we will still definitely be performing it with great enthusiasm in October. We have been rehearsing hard and preparing the costumes and sets and we are really looking forward to being able to produce this uplifting and entertaining event. If you have already bought your tickets then, of course, these will be honoured for the new dates. We really hope that you feel able to continue to support us by holding on to your tickets until October. However, if you would prefer a refund then these are available from the Dulverton Post Office when you present any previously purchased ticket(s).
_____________________________________________________________________
Simonsbath Festival Committee have reluctantly taken the decision
to cancel the festival this year.
Philip Hull, Committee Member comments:
"This being our ninth Simonsbath Festival we were looking forward
to welcoming audiences who want to enjoy world class Music, Art,
Poetry and first-rate Speakers from around the world.
Regrettably we have had to cancel the festival this year. The health &
welfare of our supporters and volunteers must always come first.
Virus permitting, we would like to run an event or two later in the
year and we will keep everybody informed of our plans.
Any monies paid in advance for tickets will be returned in full and we
will be contacting those concerned shortly.
We would like to thank our audiences for their continued support
and look forward to welcoming them back to the festival in May
2021".
____________________________________________________________________
The Exmoor Society
Following government advice on group events, The Exmoor Society is cancelling all walks before 1 August and will keep the situation under review.  The Society would like to encourage as many as possible to enjoy Exmoor National Park's natural beauty safely and promote physical and mental wellbeing.  We will try to publish on our website the planned routes of the cancelled walks in the online events calendar.  Please keep yourselves and others safe by following government guidelines for COVID-19.'
Thank you very much for all your past support in promoting our walks.  We will be working both at the office and at home as required and will continue to respond to all enquiries as promptly as possible.  We hope it will not be too long before we are able to return to normality and wish you good health in the meantime.
_____________________________________________________________________
Home Library Service Volunteers
The Royal Voluntary Service is currently looking  to recruit volunteers  for a variety of roles within  the Home Library Service in Wiveliscombe and the surrounding parishes.
The Home library service exists to ensure people who cannot get to the library due to poor health or mobility or caring responsibilities but  still enjoy reading can  receive library books free of charge by a Royal Voluntary Service volunteer who will choose, deliver and befriend an individual in their own home.
If you would like to know more about volunteering for the Home Library Service please contact kirsty.jenssen@royalvoluntaryservice.org.uk or tel: 07920 250834.
_____________________________________________________________________
Salisbury-Flower-Festival-290120v2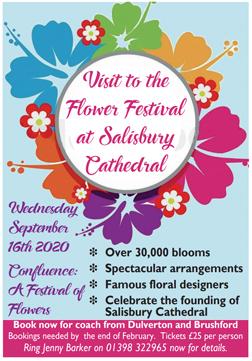 To download a poster click here:-
Salisbury Flower Festival 290120v2
_____________________________________________________________________
Exmoor Pony Centre News
News from the Exmoor Pony Centre, Ashwick, Dulverton TA22 9QE
Welcome to 2020 and the start of a new season at the Pony Centre. We opened on Sunday, 16th February with the first activity afternoon of the year on 20th February. The riding ponies are back from their winter holiday ready for the coming year's trekking and other riding activities.
13 new foals have arrived at the Centre over the winter, all of which are being handled and health checked to prepare them for future rehoming. This year they are all named for famous artists. Little Banksy, in the photo with Linzi, is much smaller than the other foals and will need some extra care and attention to get him up to full weight.
Many ponies have gone out to new conservation grazing sites around the country and all have settled in well. Four of last year's foals (the ones named after cheeses) are now with Avon Wildlife Trust. We were recently notified of some ponies in Yorkshire that were destined for slaughter and were able to rescue six of them. Three fillies and a colt are now at the Exmoor Pony Centre and are being kept in quarantine for a while before being allowed to mix with others. The two older mares are now on a grazing site in Northumberland where they can live out their days with other older mares.
In January, we were contacted by Coppershell Farm Sanctuary in Wiltshire who rescued a young Exmoor but did not have the experience to handle him. They were desperate for him to have a better life so he is now at the Centre and, once properly handled and out of quarantine, he'll be gelded and introduced to our other geldings.
Over the Christmas period we took our stall to various local events. Sales of our cards and calendars help towards the cost of the winter hay and feed which is needed by our foals. We held a successful Dog Show at Cannington and have been collecting at Tesco stores in Ilfracombe, Minehead and Bideford. We had the use of the Pop- up shop in Wellington for the week of the 20th January; a new venture for us, which we attracted lots of visitors and raised nearly £600 for our ponies. A big thank you to everyone who came to buy and to our wonderful volunteers who ran it for the week. We hope to repeat it this year just before Christmas.
You may remember we were awarded a grant by Tesco Bags of Help at Ilfracombe to create a mobile pony roadshow which will enable us to take ponies and information about our charity to many more people. The display is now completed and we are looking forward to taking it out on the road this year. Thank you to the people of Ilfracombe who voted for us and made this happen.
We are open from 16th February 2020 until 30th October 2020.
Monday, Wednesday, Thursday, Friday and Sunday 10am – 4pm. Closed Tuesday and Saturday.
Admission is free but we welcome donations to enable us to continue caring for the ponies.
Saturday 21st March 2pm – 4pm
Celebrate Mothers' Day with a cream tea and the Exmoor ponies.
Friday 3rd April Quiz at the Sportsman's Inn, Sandyway – 7pm
Teams of 6 or just come along to make up a team on the night.
Booking: Booking essential. Charge: £12 to include carvery.
Call Exmoor Pony Centre 01398 323093 or Sheila 01598 740281 to book your place
Sunday, 5th April – Activity Day – 11am – 3pm
Family Easter Quiz Trail. Entry free. Small charge for activities and refreshments
Wednesday 20th May Guided Walk with the Ponies 11am – 12.30pm
Join an Exmoor Pony expert and four-legged pack pony friend, to find ponies on the moor and discover more about this native breed.
Booking essential.  Donations welcome.Thursday, 28th May – 12 midday – 3pm
Activity afternoon. Entry free. Small charge for activities and refreshments
Website: www.exmoorponycentre.org.uk
Facebook: www.facebook.com/TheExmoorPonyCentre
Email: info@exmoorponycentre.org.uk
Tel: 01398 323093
_____________________________________________________________________
One for the diary:-
Trychay event August Bank Holiday.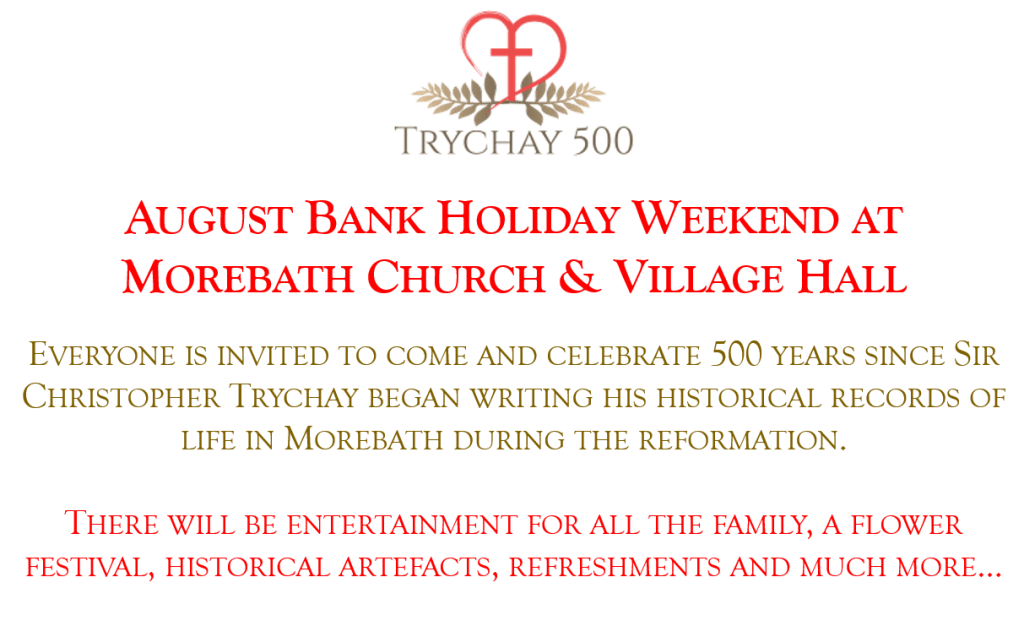 _____________________________________________________________________

_____________________________________________________________________