Items not yet included or missed the deadline?
If you would like us to add an event or edit please let us know at exmoornews@gmail.com – and we will add it on this website page. Thank you.
_____________________________________________________________________
Home Library Service Volunteers
The Royal Voluntary Service is currently looking  to recruit volunteers  for a variety of roles within  the Home Library Service in Wiveliscombe and the surrounding parishes.
The Home library service exists to ensure people who cannot get to the library due to poor health or mobility or caring responsibilities but  still enjoy reading can  receive library books free of charge by a Royal Voluntary Service volunteer who will choose, deliver and befriend an individual in their own home.
If you would like to know more about volunteering for the Home Library Service please contact kirsty.jenssen@royalvoluntaryservice.org.uk or tel: 07920 250834.
_____________________________________________________________________
Salisbury-Flower-Festival-290120v2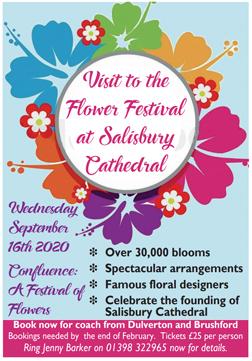 To download a poster click here:-
Salisbury Flower Festival 290120v2
_____________________________________________________________________
Exmoor Pony Centre News
News from the Exmoor Pony Centre, Ashwick, Dulverton TA22 9QE
Welcome to 2020 and the start of a new season at the Pony Centre. We opened on Sunday, 16th February with the first activity afternoon of the year on 20th February. The riding ponies are back from their winter holiday ready for the coming year's trekking and other riding activities.
13 new foals have arrived at the Centre over the winter, all of which are being handled and health checked to prepare them for future rehoming. This year they are all named for famous artists. Little Banksy, in the photo with Linzi, is much smaller than the other foals and will need some extra care and attention to get him up to full weight.
Many ponies have gone out to new conservation grazing sites around the country and all have settled in well. Four of last year's foals (the ones named after cheeses) are now with Avon Wildlife Trust. We were recently notified of some ponies in Yorkshire that were destined for slaughter and were able to rescue six of them. Three fillies and a colt are now at the Exmoor Pony Centre and are being kept in quarantine for a while before being allowed to mix with others. The two older mares are now on a grazing site in Northumberland where they can live out their days with other older mares.
In January, we were contacted by Coppershell Farm Sanctuary in Wiltshire who rescued a young Exmoor but did not have the experience to handle him. They were desperate for him to have a better life so he is now at the Centre and, once properly handled and out of quarantine, he'll be gelded and introduced to our other geldings.
Over the Christmas period we took our stall to various local events. Sales of our cards and calendars help towards the cost of the winter hay and feed which is needed by our foals. We held a successful Dog Show at Cannington and have been collecting at Tesco stores in Ilfracombe, Minehead and Bideford. We had the use of the Pop- up shop in Wellington for the week of the 20th January; a new venture for us, which we attracted lots of visitors and raised nearly £600 for our ponies. A big thank you to everyone who came to buy and to our wonderful volunteers who ran it for the week. We hope to repeat it this year just before Christmas.
You may remember we were awarded a grant by Tesco Bags of Help at Ilfracombe to create a mobile pony roadshow which will enable us to take ponies and information about our charity to many more people. The display is now completed and we are looking forward to taking it out on the road this year. Thank you to the people of Ilfracombe who voted for us and made this happen.
We are open from 16th February 2020 until 30th October 2020.
Monday, Wednesday, Thursday, Friday and Sunday 10am – 4pm. Closed Tuesday and Saturday.
Admission is free but we welcome donations to enable us to continue caring for the ponies.
Saturday 21st March 2pm – 4pm
Celebrate Mothers' Day with a cream tea and the Exmoor ponies.
Friday 3rd April Quiz at the Sportsman's Inn, Sandyway – 7pm
Teams of 6 or just come along to make up a team on the night.
Booking: Booking essential. Charge: £12 to include carvery.
Call Exmoor Pony Centre 01398 323093 or Sheila 01598 740281 to book your place
Sunday, 5th April – Activity Day – 11am – 3pm
Family Easter Quiz Trail. Entry free. Small charge for activities and refreshments
Wednesday 20th May Guided Walk with the Ponies 11am – 12.30pm
Join an Exmoor Pony expert and four-legged pack pony friend, to find ponies on the moor and discover more about this native breed.
Booking essential.  Donations welcome.Thursday, 28th May – 12 midday – 3pm
Activity afternoon. Entry free. Small charge for activities and refreshments
Website: www.exmoorponycentre.org.uk
Facebook: www.facebook.com/TheExmoorPonyCentre
Email: info@exmoorponycentre.org.uk
Tel: 01398 323093
_____________________________________________________________________
One for the diary:-
Trychay event August Bank Holiday.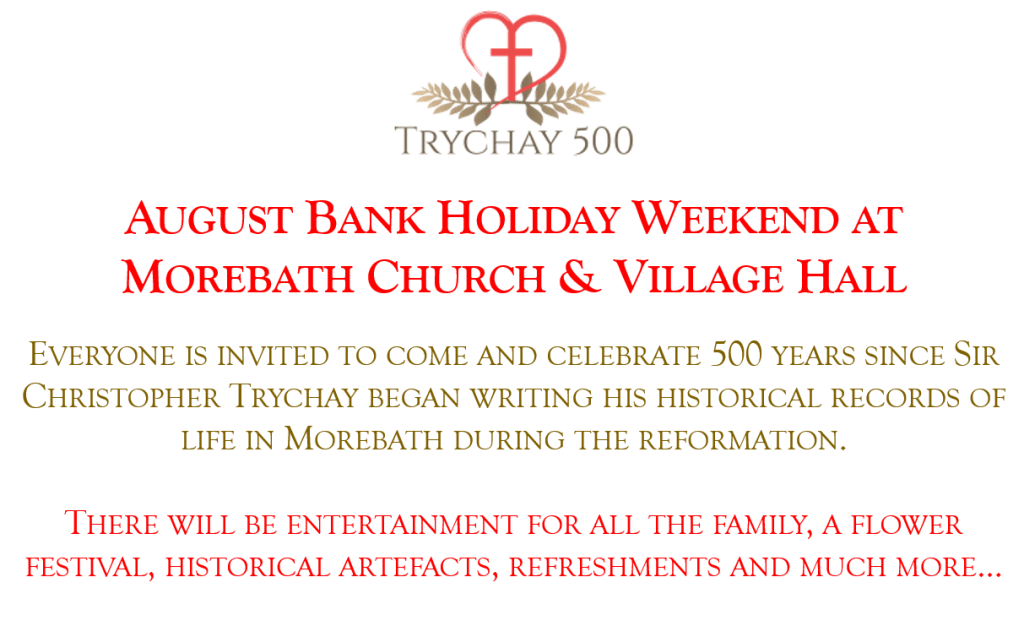 _____________________________________________________________________

_____________________________________________________________________