Items not yet included or missed the deadline?
If you would like us to add an event or edit please let us know at exmoornews@gmail.com – and we will add it on this website page. Thank you.
___________________________________________
Lorna Doone's Exmoor
The 150th anniversary of the Lorna Doone story by R D Blackmore celebrate a series of events throughout the year. This year's Lorna Doone themed events will be celebrating the culture, landscape and heritage of Exmoor.
Dulverton are planning a family friendly weekend on 29th and 30th of June. Taunton Garrison will be donning period dress to re-enact events from the novel all around town. There will also be 17 th century themed activities by Wild Wellies, along with live music, film show and a fabulous 17 th century banquet on Sunday. Plus watch out for the notorious 'Doones'; who will be prowling around the town all weekend doing what Doones do!
Full details of all Lorna Doone events can be found at
www.Visit-Exmoor.co.uk
___________________________________________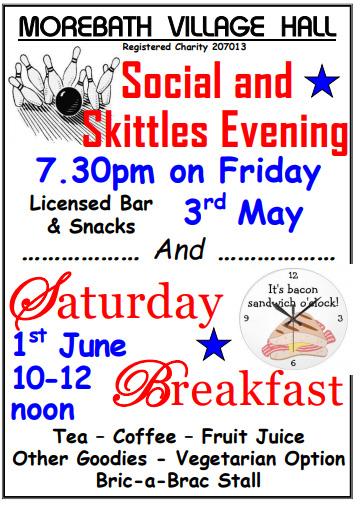 ___________________________________________
Minehead Literary Festival
For further details click here https://www.mineheadliteraryfestival.org/
___________________________________________
MINEHEAD IN BLOOM 1994-2004 – Ten Years of Blooming Success
A talk at the Beach Hotel, Minehead, for Minehead Museum on Tuesday 23rd April  @ 7.30 pm
Come and re-live it at this illustrated talk by Sandra Slade, Secretary of 'Minehead in Bloom' during the years when Minehead achieved Regional, National and International success in the Britain in Bloomcompetitions.
Tickets: £5 each (£3 to Friends of Minehead Museum) may be purchased from the Museum (open 10-4 pm Tuesdays-Saturday & 11- 4pm Sundays) or from Janet Styles 01643 822097 janetstyles@btinternet.com
___________________________________________
Wiveliscombe Community Choir
Wiveliscombe Community Choir seeks a Musical Director and a full time Pianist. There would be a small remuneration package for both positions. The Choir is an informal gathering of friendly people who enjoy singing. The range of songs is typically from the shows, folk songs and other light music. The choir has a library of familiar songs but would welcome additional suggestions. Auditions are not required but the choir aim to sing in four parts.
The Musical Director would choose suitable music and train the choir at a weekly rehearsal, currently on a Thursday evenings at the Silver Street Centre. If possible, concerts may be arranged at local retirement homes and at any community event where the choir could provide some entertainment.
A full time Pianist would also be required to play at rehearsals and concerts following the Musical Directors guidance.
Full details of the responsibilities will be discussed on application and, in the first instance, please make contact by telephone to:
01984 623828 or 01984 623195
___________________________________________
WORKSHOP WANTED FOR LOCAL 
WOOD CARVER AND MEMORIAL ARTIST
I am looking for a small / medium size workshop within half an hour of Dulverton from which I can run my business   
Please contact: me, Laurence Beckford 0772 4452 961 
—————————————————————————–
Beauty and Wellbeing Clinic
A beauty salon situated just 1.6 miles from the historic charter town of Bampton, on the outskirts of Shillingford. Here at Remote Therapies we offer a range of treatments to suit all.

~Waxing ~Gel & Acrylic Nails
~Eye Treatments ~Dermalogica Skin Care
~Eyelash Extensions ~Massage
~Manicures & Pedicures ~CryoSthetics
~Spray Tanning ~Treatments for Men
Free onsite parking
T: 07845 925907 E: remotetherapies@gmail.com w: www.remotetherapies.co.uk
Unit 2d, Fourwinds, Shillingford, Bampton, Tiverton, Devon, EX16 9AU
_______________________________
STARLIGHT
The annual Dulverton by Starlight Public Meeting will be held on Tuesday
5th March at 7pm in the Lower Town Hall. As it is Shrove Tuesday there
will be added pancakes!
The public meeting is open to all: shop owners, residents, visitors,
volunteers, anyone who would like to help or join the committee. We
want to hear your ideas: what you like about Dulverton by Starlight and
do you have any suggestions to include for future events.
Dulverton by Starlight is the town's premier event, a winter celebration
signalling the start of the festive season, but the future of this event is in
doubt.
The present committee are a small but dedicated band of locals and
business owners who work throughout the year to put the event together.
At the moment there are more jobs than there are committee members
and the sad reality is that if we do not get new committee members
there will be no Dulverton by Starlight this year. I'm sure that you agree
that it would be a real blow for the town to lose such a unique and much
loved event due to lack of participation.
Please come along to the meeting if you are able to give a couple of
hours a month to join our easy-going committee to help with the planning
or are able to offer help on the day or as part of a group. If you are
unable to attend the meeting but would like to register your interest,
please email info@dulvertonbystarlight.co.uk.
We look forward to seeing you on 5th March
The Dulverton by Starlight Committee
——————————————————————————