Some exciting radio news…
On Friday 7th January 2022 at 10.30am, Ceri and Claire were interviewed on the 10RADIO COMMUNITY SHOW with Pauline Homeshaw and Andrew Norris
Listen to the interview: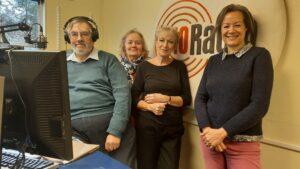 ________________________________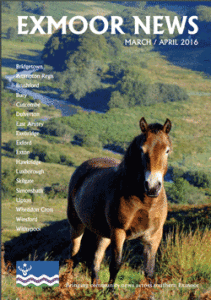 Ceri Keene and Claire Savill have been running the Exmoor News since January 2016, the first issue being this one.
At one time, if you wanted to find out about local events and activities, the shared parish magazine that covered Southern Exmoor was where you looked. That was until 1988, when it was agreed that, as far as parishes were concerned, separation was the way to go. Jan Ross, then Community Education Manager at Dulverton Middle School, became the driving force behind the launch of a new bi-monthly magazine – Exmoor News. From the outset, the aim was to combine local information with advertising, to support the costs of printing (then done in Taunton) and free distribution, via boxes and hand delivery by volunteers.
Fast forward six years, following major cuts in funding, Somerset County Council made its Community Education Manager posts redundant. Jan was determined that Exmoor News should continue and persuaded Exmoor Community Computer Centre in Winsford to take it on. When the centre closed, Tracey Staples took over until 2016, when the baton was handed to the current joint editor-owners, Ceri Keene and Claire Savill.
'I have a copy of every issue of Exmoor News and it is a great way to research dates of past events, an opportunity to reminisce on some wonderful events that happened over the last 32 years and see our local communities at their best.'

Jan Ross, founding editor, Exmoor News
Meet the editors – Ceri Keene and Claire Savill
Ceri Keene and Claire Savill have been at the helm of Exmoor News since 2016, taking it in turn to put each issue to bed. As well as being neighbours in Brushford, they have both worked on magazines, have shared and complementary professional skills, and have worked together on the Brushford's Parish Plan. So, when Ceri was offered the opportunity to take over Exmoor News she knew that she and Claire, who ran Printing at the Vicarage, would make the ideal team.
Born and brought up in Zambia, Ceri settled in the UK, training as a graphic designer and working with the BBC's News and Current Affairs team. It was demanding and fast-paced work and the team won a BAFTA award for their memorable coverage of the 1997 general election – the first time that interactive graphics had been used for broadcasting election results. It was a job she loved but her husband, Tony, who also worked for the BBC, was missing his South West roots and in 2000 the couple relocated permanently to Brushford.
Claire also moved to the edge of Exmoor from elsewhere – in her case, Sussex – and, like Ceri, this meant leaving a job she enjoyed. Her working life started in an advertising agency but, after her brother introduced her to an Apple Mac, she became hooked on computers and a new and successful career in IT sales and marketing took off. But…love conquers all and, having married, Brian, an Exmoor-based wool grader, Claire accepted that a move to the South West was inevitable and, in 1999, Brushford became their home. After working for a local IT firm, she launched Dulverton-based Printing at the Vicarage, then operating from the old Parish Office but since 2013, with Claire at the helm, at its own office in picturesque Church Walk.
Ceri and Claire pride themselves on staying true to the original spirit of Exmoor News, while taking the much-loved publication into new and exciting directions, with extra pages, regular contributors, and more photographs and colour throughout, as well as widening the distribution area to reach even more readers within Exmoor and beyond. Exmoor News has proved the perfect way for family members and friends who have moved away to keep in touch with local news and events, and it is equally popular with regular holidaymakers who enjoy reading about what is happening in this beautiful and unique area.
Look out for us on Facebook and Instagram too, where you will find up-to-the-minute local updates, stories and photos.
Facebook https://www.facebook.com/Exmoornews
Instagram @Exmoornews
What our advertisers think
Exmoor News is rated highly by its loyal advertisers, whose numbers have doubled since 2016, and there is now a waiting list. For some local businesses, regular advertising has proved so successful that it is their preferred way to promote their services. This solid advertising base is what enables Exmoor News to continue as a free publication, now distributed widely by volunteers and box drops across southern Exmoor and just beyond the national park boundaries.
Find out more here.
Rural Enterprise Award finalist
The special bond between Exmoor News, its publishers, readers, contributors and advertisers, and the communities it serves, has been recognised by the Countryside Alliance. We are very proud to be one of the finalists in its Rural Enterprise Awards (held over from 2020 due to Covid-19).
Find out more here.
Another exciting venture for Exmoor News in recent years has been our publishing service for local authors. Our current list includes both fact and fiction, family and wartime memoirs, poetry, cookery, fishing and birdwatching, art, and children's books. Find out more here.
We have some ideas brewing offering new services to our clients – coming soon.